BALTIMORE – Andy Nunez, Family Investment staffer at the Worcester County Department of Social Services and an accomplished author, joined dignitaries from around the county to recite poems to their valentines during the annual M.U.S.H.E.-Men Uttering Sonnets of Heartfelt Emotion event on Valentines Day at the Blue Dog Cafe, in Snow Hill, MD. The event helped to raise awareness and funding for the CRICKET Child Advocacy Center. (CRICKET is an acronym for Children's Resources Intervention Center-Kids Empowerment Team).
"This is a fun and heart-filled event that brings attention to a very serious matter, child abuse, said Peter Buesgens, director of the Worcester County Department of Social Services. "Over the last six months we investigated over 416 child protective services allegations with the child advocacy center playing an important role in the investigative process."
This is the third year that Andy Nunez, a 20 year veteran of the department of social services and the published author of six books, participated in the event. "The director invites me every year, so I am happy to add to the event," continues Nunez. "This year, State Senator Jim Matthias leading the audience in "All You Need is Love" was the rousing highlight of the event."
Because of his love of history, Nunez read two of Napoleon's love letters to Josephine. "They are full of passion and energy, as was Napoleon himself," said Nunez.
Nunez is the county's 2010 Family Investment Worker of the Year and a graduate of the Department of Human Resources Leadership development program, along with being second in command of the emergency shelter response group. Because of his efforts and the efforts of the other participants, $600 was raised on behalf of the CRICKET center.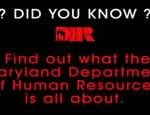 The CRICKET child advocacy center provides a comprehensive multidisciplinary team approach to the investigation, prosecution, and treatment of child physical and sexual abuse in a child-friendly environment. The Child Advocacy Center, led by the Worcester County Department of Social Services, includes child protection workers, medical and mental health professionals, local law enforcement, Life Crisis, Inc., and the Worcester County State's Attorney's Office.