Six Distinguished Women To Be Inducted Into The  Maryland Women's Hall Of Fame
BALTIMORE –The Maryland Commission for Women will induct six accomplished women into the
26th annual Maryland Women's Hall of Fame during Women's History month on March 29, 2011, 5:30 p.m. – 8:30 p.m. at the Miller Senate Office Building in Annapolis.
Each year the Maryland Commission for Women and Women Legislators recognize women of high achievement. The selected honorees' contributions have made significant and lasting impressions in the areas of the environment, science and technology, education, the arts, social justice, civil rights, the armed services, and religion. The Maryland Women's Heritage Center in Baltimore houses the Hall of Fame.
The 2011 honorees include: Lucy Diggs Slowe, the first Dean of Women at Howard University; Carol W. Greider, Ph.D. Nobel Prize winner in Physiology or Medicine; Barbara Holdridge, cofounder Caedmon Records, the initiator in spoken-word recordings; Dr. Ligia Peralta, pioneer in the fight to stem the HIV epidemic among young people; Gertrude L. Poe, "Maryland's First Lady of Journalism;" and June A. Willenz, a global human rights advocate.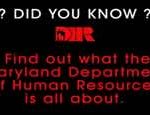 Who: Maryland Commission for Women
What: 26th Women's Hall of Fame Induction ceremony
When: March 29, 2011, 5:30 p.m. – 8:30 p.m.
Where: Miller Senate Office Building, Annapolis