Baltimore:( May  25, 2011)  During May, which is Foster Care Month, Maryland recognizes local families who make a significant difference in the lives of children who are in need of a safe and loving home.  Earlier this month, First Lady Katie Curran O'Malley and Maryland Department of Human Resources (DHR) Secretary Theodore Dallas honored families during a reception at Government House.  Each jurisdiction also hosted a special "thank-you" event for their foster parents and the children in their care.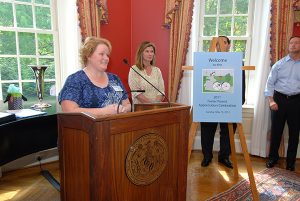 Foster Care is a temporary placement that provides short-term care and supportive services to children who are unable to live at home because of child abuse or neglect.  The foster care program in Maryland encourages foster parents to play an active role with the birth family in planning and carrying out the goals of the permanency plan.  Foster children are placed in homes that are in their own community, thereby keeping the children connected to their home school, friends, and resources within their neighborhood.
 Across Maryland there are over 7,000 young people in foster care – 50 percent of them are 13 years of age or older.
The 2011 Foster Parents of the Year from Northern Maryland are:
Northern Region –Carroll, Cecil, and Harford Counties
 Jurisdiction:  Carroll County
Honorees:  Colleen and Rick Cardwell
The Cardwells lead by example.  Colleen is the secretary of  the local Carroll County Foster Parent Association.  Recently, the Cardwells worked closely with a biological mother to help her to reunify with her son.  The Cardwells provided emotional support to the mother and communicated with the agency regarding the mother's progress.  They were instrumental in the reunification process.
Though originally licensed for young children, the Cardwells have accepted the agency's "teen challenge."  They are now willing to foster teens and are a visiting resource for a teen in a group home setting.  At a training last year, the Cardwells expressed their positive experience caring for teens and encouraged other foster parents to open their homes to teens. 
The Cardwells are willing to communicate their ideas and concerns to the department in a respectful and meaningful way.  They share their thoughts on how the agency and foster parents can work most effectively as a team. 
Jurisdiction:  Cecil County
Honoree:  Christina Andrews
 Christina Andrews has been with the agency for seven years and has excelled as a foster/adoptive parent.  She has cared for many substance exposed infants and multiple sibling groups.  She tends to the individual needs of the children and is a strong advocate for them.  If she does not know something, she most certainly will research the information.
 She is also very accommodating and values working together as a team.  Not only is she an exemplary foster parent, she is a strong leader in the foster parent community.  Christina has been the President of the local Foster Parent Association for the past two years.  She works very hard to unite foster parents and provide them with pertinent information and fun activities as a group.  She also works hard to bridge the gap between foster parents and the Department of Social Services.  She demonstrates a commitment and dedication for providing love and respect to the children and families she serves. 
Jurisdiction:  HarfordCounty
Honoree:  Trisch Sadowski
Trisch Sadowski has been a Harford County Resource Parent for 2 ½ years.  She has been a valuable resource to the agency for her willingness and enthusiasm in working with teens.  Trisch has had 11 placements, all children over the age of 13. 
 She recently adopted one of her foster teens, a 14-year-old and was granted custody/guardianship for a 16- year-old boy who had been a foster teen in her home for over a year.  Trisch currently has one additional teen placement. 
 Trisch assisted two teen girls, 13 and 17(siblings) to successfully transition to a permanent placement.  She worked with the biological father to establish rules and assisted in transportation to and from visits (including overnight) which allowed a smooth transition for the 13 year old to move with her biological father. 
She also worked with the agency in identifying a long-term resource family for the 17 year old, that would assist in maintaining contact and visits with the younger sister.  Trisch's flexibility and willingness to attend Family Involvement Meetings and court hearings with her teens is a big part of why many of the teens placed in her home have been successfully reunited with their birth parent or a biological family member. 
 Trisch is the President of the Harford County Foster Parent Association and an active member of the Maryland State Association and the National Association. 
 For information about becoming a licensed foster/adoptive parent, contact the local department of social services in your area, or call 1-800-332-6347, or attend a regional information session for prospective foster/adoptive parents.