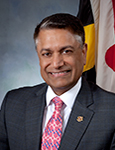 ANNAPOLIS, MD- (February 13, 2015) Appointed by Governor Hogan to head Maryland's Department of Human Resources, Sam Malhotra was confirmed by the Maryland State Senate today, making him the first Indian American ever appointed to a cabinet post in Maryland. Founder and CEO of Subsystem Technologies, Inc., Malhotra's public service career includes serving in former Governor Ehrlich's administration as a volunteer on the Maryland Commission for Asian and Pacific Islander Affairs.
"I am privileged to be nominated by Governor Hogan and confirmed by the Senate to lead this very important department, which serves as the state's primary human services provider, assisting over one million people annually," said Secretary Malhotra. "Our mission is to support and be the social safety net for the most vulnerable Marylanders who may very well be our neighbors or friends. Being in office only a few weeks, I am already impressed with the dedication, passion and caliber of professionals at DHR. Serving the people of Maryland is a privilege and an honor, and together we will aggressively pursue opportunities to assist people in economic need, provide prevention services and protect vulnerable children and adults."
Secretary Malhotra has a B.A. from the University of Maryland at College Park, a MA from Georgetown University and an OPM from the Harvard Business School. He serves on the board of the Creative Education Foundation and the board finance committee of Holy Cross Hospital. As founder and CEO of Subsystem Technologies, Inc., Malhotra's company received numerous awards including the Inc 500, Deloitte & Touche 500 and Washington Technology FAST 50.
"We've worked to assemble a talented, diverse and bipartisan Cabinet to help us in our mission to change Maryland for the better," said Governor Larry Hogan. "I am honored to have Sam Malhotra join the Hogan-Rutherford administration as Secretary of the Department of Human Resources, and I know he will strategically lead the department in the direction that best serves Maryland residents."
About Maryland Department of Human Resources (DHR)
The Maryland Department of Human Resources, through its 24 local departments of social services, aggressively pursues opportunities to assist people in economic need, provide preventive services, and protect vulnerable children and adults in each of Maryland's 23 counties and Baltimore City. Additional information may be found at www.dhr.state.md.us