DHR Launches Effort To Include Foster Children In Decision-Making Process, Help Them Be 'Ready By 21'
BALTIMORE – The Maryland Department of Human Resources (DHR) launched an effort to enhance services available to older youth in foster care by involving them all facets of service delivery. Five Maryland jurisdictions have been selected to serve as pilot sites for this initiative: Baltimore City, Prince George's, Somerset, Wicomico and Worcester counties.
The agency brought together youth, caregivers, private service providers, families, foster parents and community social service system partners to establish the Youth Matter framework, fashioned after its successful 'Place Matters' initiative which has lead to a historic reduction in the number of foster children in the state's care as well as a reduction of children in group care.
"Together, people involved in the state's child welfare system want our youth working toward self-sufficiency" explained Carnitra White, executive director of the Social Services Administration at DHR. White noted that 50 percent of the children in foster care are age 14 or older.
'This new framework will assist us in doing a better job of involving youth in the decisions that affect their future", said White. In Maryland, youth may legally stay in the foster care system until age 21.
Dondrea Robinson is one of the foster youth working with DHR to implement Youth Matter. She has had direct input on how the state can better serve the youth in foster care.
"Who better to help meet the needs of youth than youth themselves?" asked Robinson, who also serves as vice president of the Youth Advisory Board on the Eastern Shore.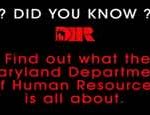 The six core values at the center of this model are advocacy, empowerment, inclusion, respect, support and value. Youth in these jurisdictions will participate directly in planning for their futures, acquiring advocacy and negotiation skills as well as self-confidence.